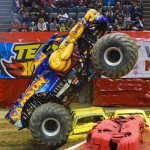 Allison Patrick, 29, the youngest daughter of Monster Truck Legend and Hall of Famer Dan Patrick, was born into the monster truck life and has lived it her entire life. She has grown up around the sport with her family, spending years around the shop and traveling around the world with the Samson Monster Truck before eventually moving into the driver's seat.
After Dan had piloted Samson for nearly 30 years, he found the perfect replacement in Allison when he decided to semi retire in 2013. Allison's first event was in Milwaukee, Wisconsin in January 2013.
Allison says it was difficult at first being the daughter of a legendary driver, knowing the expectations were high and feeling that all eyes were on her. She has now embraced that legacy and says her only regret is not starting sooner!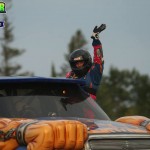 While the challenges of being a Monster Truck Driver can be many, Allison also balances the monster life with being an OB Registered Nurse. She says, "The look on my patient's faces when they find out about my monster life is priceless." I think it is fair to say that Allison is well equipped to deal with whatever may go wrong out there. "She says, I am a full-time nurse, I joke and say if I get hurt, I know how to fix myself"!
Going from the long hours at the hospital, Allison still manages to find the time to swap the scrubs for the driver's suit and pilot Samson on the weekends!