PHOTOS OF CHASSIS IN PRODUCTION:

Dan & Chris at PEI shop w/ 2 chassisís in production.

Frame rail being welded with jig.

Completed Frame Rail

Dan personally performs most of
the welding on his chassis and
components.

Lower chassis and 4-link brackets assembled.

Shock towers added.

Completed Chassis using over 650' of
D.O.M. tubing.
PREMIER TEAMS USING PATRICK CHASSIS:
Live Nation Motorsports
Grave Digger 14 & 18; Blue Thunder; Superman; Batman; TAZ; Monster Mutt; Escalade; El Toro Loco; Pastrana 199 & more.
2Xtreme Racing, Inc.
Bounty Hunter - Iron Outlaw - Scarlet Bandit
Performance Motorsports, Inc.
Virginia Giant
Predator Racing, Inc.
Predator - Prowler - Pouncer
Click here to view a complete list of chassis built!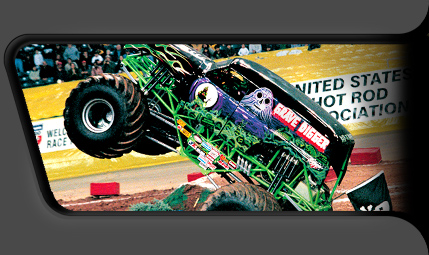 CUSTOMER TESTIMONIALS:
"At this time we have 19 Patrick Enterprises chassis . We expect our trucks to reach at least the semi-finals so we go with Patrick for their dependability and strength. When it comes to freestyle, no one abuses them like our drivers, and they hold up."
- Senior Director of Fleet Operations
Mike Wales - Live Nation Motorsports
------
"We use Dan's chassis because of the years of experience he has, the availability of parts and the quality of the craftsmanship."
- 2005 Monster Jam World Finals Freestyle Champion
Jimmy Creten - 'Bounty Hunter'
------
"Dan's chassis is the best piece available in the business."
- 2 Time Thunder Nationals Series Champion
Diehl Wilson - 'Virginia Giant'
------
- "We have one chassis that is 14 years old, another that is 11 years old, and another that is 8 years old. They have definitely held up to the abuse we dish out every weekend and have served us well."

22 Year Monster Truck Veteran
Allen Pezo - 'Predator'
------
"Obsession Racing has been using Patrick Enterprises Frames and accessories for the past 10 years. We currently have another chassis on order for my son and know with out any doubts he will be safe. Dan's products are top quality and we always receive them in a timely fashion."
- Fabtech Obession Owner/Driver
Rick Swanson