Builder of championship winning chassis since 1989.
The 'Patrick Chassis' has become the standard for quality, safety and reliability in the monster truck industry. With over 100 trucks in competition and an impressive roster of customers, builder Dan Patrick is one of the most respected fabricators in the industry. His chassis carry premeir names like Bigfoot, Grave Digger, Bounty Hunter and Virginia Giant.
Patrick Enterprises, Inc., will build anything from a basic chassis to a complete turn-key truck. We also offer components to fit the needs of even the most demanding drivers and even offer used monster truck parts for sale!
"CREATING THE PATRICK CHASSIS"
- Article By Dave Huntoon, TruckWorld.com, May 2004
>> News Updates<<
All New PEI Chassis For JR McNeal and Razin Kane Monster Trucks
July 30, 2014
The fabricators at PEI just finished up work on their latest chassis, which will soon be on its way to Florida to JR McNeal of the Razin Kane Monster Truck team! That's not all though, the team at PEI are hard at work putting together PEI chassis for McNeal's team that will be finished soon.
---
SAVE THE DATE for the 2014 PEI / Samson Open House to be held Saturday Oct 4, 2014 10 - 4!
April 29, 2014
The date for the 2014 PEI / Samson Open House has been set and will be held on Saturday October 4, 2014 from 10am to 4pm. We have many exciting things planned this year, so check back soon for more info!
---
Get Your PEI Gear Today | New Hats Now Available!
April 2014
Head over to our
merchandise
page to get your PEI T-Shirts and Hats today!
---

Another PEI chassis out the door for our customer

Matt Pagliarula of Deltona, Florida
July 2013
---
---
---

Check out the two new 2012 Suburbans that we
customized and shipped to a customer in Moscow, Russia!
February 2013
Before the conversion & starting the new chassis.
Dan Patrick doing some testing!
Shipping them out to Russia... snow included on this one!
We were very excited to be a part of this custom 4x4 build for a very happy customer.
Check out this news article
showing one of the Suburban's PEI built and shipped to Russia with the Chechnya's Leader, Ramzan Kadyrov on the set of a movie called
Turquoise in Russia.
---
---
New PEI T-Shirts!
June 2012
Get your new "PEI" t-shirt from Patrick Enterprises!!
Adult Sizes available for $25! (M, L, XL, 2XL, 3XL).
Click here!
---
---
---
---
---
Patrick Enterprises builds their first chassis for a diesel monster truck.
July 2011
Dave Radzierez of Tannersville, PA, a.k.a. "Diesel Dave," has a new
"Patrick Chassis" for his Air Dog Monster Truck.

Another chassis rolling out of Patrick Enterprises!
Rick Disharoon of Millsboro, DE, purchased two lower Patrick chassis that he will finish assembling.

---
Samson Gets A New Body!
April, 2011
Here you go fans, a Internet Special sneak peek at Samson's new body.
Look for the "new muscle" at event soon!
Paint and Airbrushing by Lynch Concepts, Chillicothe, Ohio
Make sure to check out our
Event Schedule
to see when we will be coming your way!
---
---
---
A New Samson Monster Truck Chassis Debuts!
September 18, 2010
A new Samson monster truck chassis made its debut at the KC Raceway in Chillicothe, Ohio on September 18, 2010.
Dan is very pleased with the new chassis design and the handling of the new truck.
A new Samson body and paint scheme will start out Dan's 2011 1st quarter Monster Jam racing season. Watch for a Monster Jam event near you!

---
Another Patrick Chassis Is On Its Way To Australia!
August 23, 2010
The chassis and container full of parts will be leaving Patrick's shop today to make its way to Sydney, Australia.
The estimated time of arrival is scheduled for September 28, 2010 - in time for the World Finals III event.
The World Finals III dates are October 30th in Sydney, Australia at the ANZ Stadium and November 6th in Brisbane at the Brisbane International Speedway.
Dan is planning to attend to defend his 2008 & 2009 Australian World Finals Title piloting "Samson" Australia! Stay tuned for some exciting photos.
---
A Custom Built Chassis For Ian Jones
July 15, 2010
Another custom built turn key "Patrick Chassis" left Patrick Enterprises Inc shop today to be shipped in a container to our customer, Ian Jones of Gwynedd, Wales.
The container will go by rail from Columbus, Ohio to New York, then will sail into Liverpool, England, scheduled to arrive August 10, 2010.
---
Toxic Monster Truck
July 12, 2010
A new turn key custom built "Patrick Chassis" monster truck left the Patrick Enterprises' shop recently for our customer's, The Petri Brothers, of Sardinia, New York.
The enlargable pictures above show the new chassis design with and without the body.
Watch for the "Toxic Monster Truck" at an event near you!!
---
A Brand New Monster Truck Is On Its Way To Australia
August 2009
A newly built "Patrick Chassis" with all new components, along with a Samson body and new vinyl wrap was completed and shipped from Patrick's shop August 25th to Clive Featherby of Queensland, Australia.


Not only did the container hold the new truck, but was full of new parts for Clive's fleet of Monster Trucks.
Dan will be driving the "Aussie" Samson at the South Pacific World Finals 2, Monsters Tour of Destruction, November 14th at the Brisbane International Speedway.
Check out the Photo of the "Two" Samson's - Will never be another picture of the two trucks together again!! Shortly after this was taken, the truck on the right was loaded in the container headed to Australia.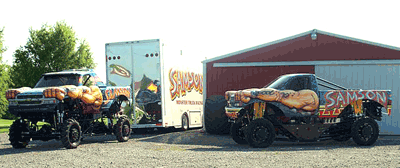 A very rare picture of two Samson's together - shortly after this photo was taken, the truck on the right was shipped in a container to Australia.
Click to Enlarge
---
First "Patrick Chassis" To Be Shipped To Finland!
The first "Patrick Chassis" to be shipped internationally left the PEI shop on March 25, 2009 for Alaharma, Finland. It arrived to its new owner, Vesa Kivimaki, on April 27, 2009. See pictures below of the work in progress, completed chassis and being loaded into the container to be shipped. Pictures to be added soon of the truck with it's new body.
The next trucks to be shipped are to Ian Jones of Gwynedd, Wales UK and to Clive Featherby of Queensland, Australia, where Samson "down under" will be making its deput.


---
Patrick Enterprises, Inc. Has Taken On A New Project:
A Monster Limo!
Patrick Enterprises has taken on a big new project...customizing a Monster Limo!! The Monster Limo is owned by Broken Bow Records in Nashville, TN. Some of the modifications include a chassis modified with a cradle built and added underneath. The body / chassis is lifted with large monster truck tires mounted and TV monitors displayed underneath.
The Monster Limo, "CHAOS," left the PEI shop July 16th, 2008, to make its first appearance at the Monster Truck Challenge event July 19th at the Myrtle Beach Speedway. Since the tropical storm cancelled the event for Saturday night, Chaos actually made its first light show appearance in St. Louis on July 26th, 2008. Look for more of this Monster Limo built by Patrick Enterprises...you surely can't miss it!
| | |
| --- | --- |
| | |
| The cradle to be added to the chassis. | Patrick Enterprises making final adjustments. |
| The customized chassis w/ new axle assemblies, shocks, wheels, tires and lighting. | Lights, camera, action! |
"Chaos" - The Monster Limo!


---
Patrick Enterprises, Inc. Goes International: Patrick Enterprises, Inc. is not only building Monster trucks and chassis's in the US, but now are heading into the international market!! A complete race ready truck is currently being built and will be shipped to a customer in Wales in the UK and a chassis is also under construction that will be going to another customer in Alaharma, Finland soon, along with other PEI componentsfor the chassis. Many of the chassis's built for Live Nation have raced in Europe for quite awhile,but these are the first two "new" chassis to be directly shipped out of the US to new customers. New Samson Monster Truck Debuts:

Dan Patrick completed work on his brand new chassis just in time for the start of the 2008 season!! This is first all-new version of Samson in many years, and Dan was very pleased withthe performance of the new truck in its debut at the Monster Nationals in Huntington, WV on January 12th, taking top qualifier and the win in its very first racing competition.
---
New "Americrush" Ride Truck Completed
Patrick Enterprises has completed work on a turn-key "Ride Truck" built for Scotty Ewusiak from Colliers, WV. The newly named ride truck "Americrush" was picked up at the Patrick Enterprises shop on Sept. 6th. The above pictures are of Dan test driving the truck before loading it on the trailer. The picture below is the completed truck painted in the American red, white and blue spirit!



Click the picture to enlarge this cool ride!



VISIT THE SAMSON MONSTER TRUCK SITE FOR PHOTOS,
EVENT SCHEDULE, PICTURES, TOYS, T-SHIRTS & MORE!!
BACK TO THE SAMSON4X4.COM HOME PAGE
COPYRIGHT© PATRICK ENTERPRISES, INC. / SAMSON MONSTER TRUCK
ALL RIGHTS RESERVERED - DO NOT REPRODUCE ANY PORTION OF THIS WEB SITE WITHOUT PERMISSION
S.E.O., Hosting By: Duane Elliott, Ent.
Monster Trucks Monster Truck Racing Chassis,Buy a Monster, Monster Truck Frames, Monster Truck Parts, Monster Truck Axles, Seats, Fabrication,
Monster Truck Racing, Dan Patrick, Patrick Enterprises Inc, Patrick Chassis, Patrick Chassy, Patrick Chassey,
Building a Monster Truck, Build a Monster Truck, Purchase a Monster Turnkey Monster Truck